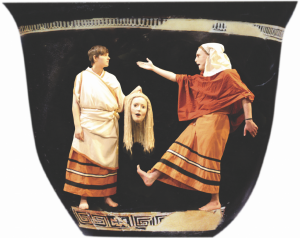 The Center for Ancient Drama at Randolph College is pleased to announce its fifth biannual conference on Ancient Drama in Performance. We encourage all practitioners and all scholars of ancient drama to attend, whether or not performance issues have ever been part of their work.
The conference will feature keynotes by Peter Meineck and William Levitan.
Ancient Drama in Performance V will coincide with the 2018 Randolph College Greek Play, Euripides' Medea, an original-practices production.
Please choose the Call for Papers link to the left, and start planning your paper now!